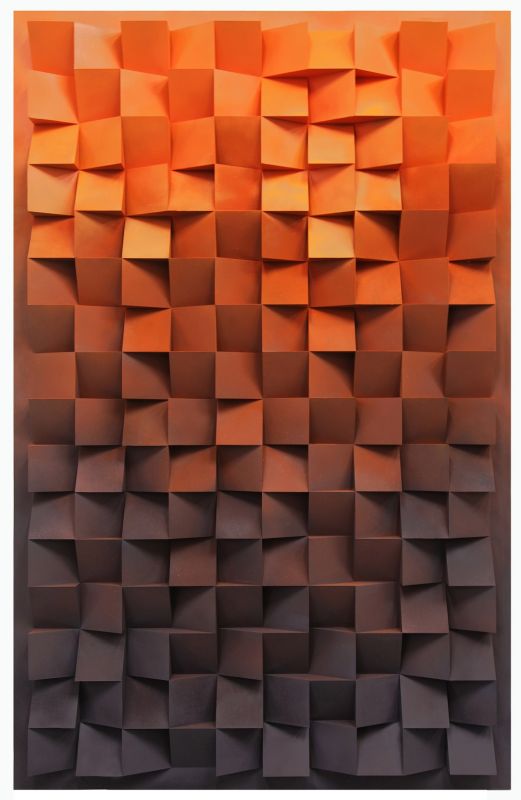 by Moritz Jacobsen

From the main train station I reach the Kunsthalle in about 15 minutes on foot, which is centrally located in a functional new building of the city administration on Berliner Platz. 34 works from the last three years by the Düsseldorf artist Jan Albers (*1971 in Wuppertal) are presented here. "Up & Down" is the name of the exhibition, curated by Ute Riese, the director of the Kunsthalle.
Alber's work is heralded by the curator as belonging to "one of the central positions of today's discourse of abstract art". I inevitably wonder how Albers created space in his artworks. And why are they exhibited in a city whose post-war architecture is often characterized in an unmistakably postmodern manner by, among other things, an expansive pedestrian bridge made of exposed concrete with three large, octagonal material recesses in it – the so-called "elephant toilet"? – Irony of history?
One thing is certain: Albers, who won the Pollock-Krasner Foundation Award in 2006, "builds" his pictures by using bulky, non-image material, pressing, punching, cutting, braiding or bending it in order to assemble it into his own thing, of which, with the best will in the world, one can no longer say what it is: relief, wall object, box picture. The principle of de- and reconstruction thus takes place in and around the Kunsthalle Gießen in a wittily intelligent way.
Albers' works aimed at the holistic in the fragmentary. He defines the resonance space for his pictures through colored wall paintings, wall drawings and sculptural or photographic elements, thus creating idiosyncratic new spatial experiences between autonomy and contextuality. Elements of Op Art find their way into the process as well as geometric forms, all of which regularly structure the room irregularly. Holes, such as those slotted by Lucio Fontana in his canvases, are provided with lettering. Metal pipes and ceramic shards provide further depth. Albers creates true landscapes in space: fabrics with characteristic highs and lows, colour gradients and matt gloss.
A visitor speaks of "harassment art", which meets the more or less inclined viewer neatly, sorted in colour and hung according to groups: spray paint on polystyrene or sisal carpet. DIY art as a tribute to the rectangle, I think, without feeling bothered in the slightest. Material-rich structure is created in every single work of art, with wood, wool, ceramics, copper wire, paper, aluminum and silver leaf. It's a pity that you can't touch the surfaces. Most of the works are stored and protected in a plexiglass case. The protective box is also a conscious, self-ironic ennobling of the exhibits, which undoubtedly fulfills its purpose. Thus, the exhibition catalogue with its 65 pages and a linen fabric binding remains the only portrait format that the art consumer can grasp haptically.
You don't have to know the biography of the native of Wuppertal, who today exhibits internationally, who grew up in Namibia and now lives in Düsseldorf after studying at the Kunstakademie Düsseldorf, to understand that he also sends political messages to the viewers of his art. Self-made clip-on buttons show image sections of eyes and mouths. I recognize Nelson Mandela and the logo of Amnesty International. As further garnishes here and there ordinary pin needles serve next to lettering, such as 'feed me' or 'sundowner', which can only be read from a certain distance. About 'twilight' some visitors of a group of students who are well acquainted with the popular topic of prudish American vampire fantasies wonder why buttons here make a reference to the movies they know very well: What if something is shady? – It's in the dark. Perplexity.
The works of Jan Albers are intended to show that "artistic inventiveness and social relevance are not mutually exclusive, but can almost be mutually dependent," according to the concept of the exhibition. Without exception, portrait formats were collected, including an oval, mainly from private collections, as well as collections from North Rhine-Westphalia, Berlin and Hamburg. Who is a lover of this art, for whom does it even represent wall decorations, living room art or investment objects? The Jan Albers graph from artfacts points steeply upwards.
How does the 42-year-old artist fold an old bicycle so 'beautifully' that it ends up hanging so decoratively on a wall? – After lingering for a long time, I begin to consider his works as 'Maximum Minimal Art': as a strategy to create art whose simplicity, while at the same time innovating through a wide variety of materials, should provide an answer to the question of what art actually is, and thus also inspire the critical viewer.