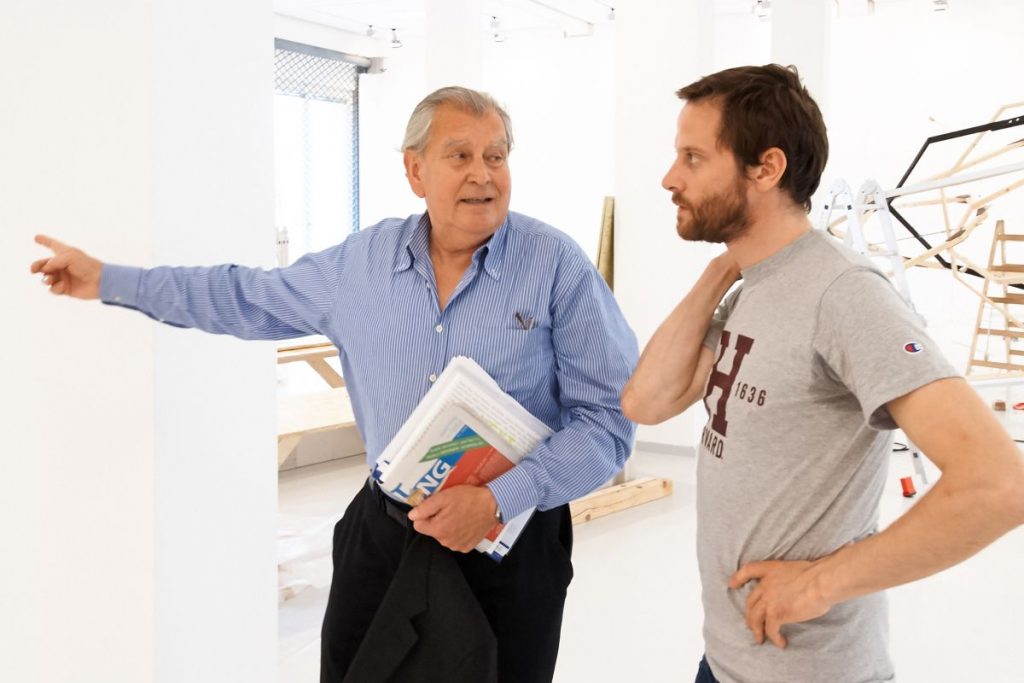 Those who, like Zdenek Felix, have dedicated themselves to current art, will quickly find themselves on a swaying boat. This can be a special pleasure, but requires a certain stamina. Firstly, nobody knows where the journey is going and secondly, sometimes high waves hit the boat from the left, sometimes from the right, sometimes from unsuspecting, then again from well-known sea monsters. But the skipper, in his distress, sticks to the only thing that seems to be reasonably stable, the mast. "Quality" shouts the art skipper and clings to this slogan in the angry high seas as if salvation itself.
Admittedly, this comparison is also flawed. On two legs, even. Felix (born in Prague in 1938) is by no means a sailor, but rather what is called a real landlubber. And the quality is not his prayer, but his guiding star since its beginnings in 1966 (with a text on Jiri Kolar). He does not simply follow him, this undogmatic crusader took up the journey in the first place in order to get as close as possible to his star on his (almost) lifelong journey across the vast sea of art. Yes, perhaps to meet him in person. Felix is also not a skipper, but rather a scout, a real nose, a truffle pig. He prefers to wallow in the lowlands of art, sees himself as an accomplice of the artists, rather than seeking art-theoretical discussions. He also thinks little of dogmas and schools, preferring to see himself as a membrane, as a medium that takes up contemporary art in order to convey it to the world. For himself, however, who prefers a noble restraint that has recently been little seen, he likes to choose the term "exhibition maker" for his insecure profession. – A dying species.
He is also a doer only in the sense that he likes to approach things pragmatically, straightforwardly, straightforwardly, as far as his profession allows it at all. The exhibition organizer also recalls the archetype and the word-shaping figure Harald Szeemann, who brought Felix to the West in times of distress, provided him with his first permanent position in an art museum and tolerated him as an assistant. Felix has learned to make things from him since 1969 and has sharpened and expanded his passion for contemporary art. During his time as founding director of Hamburg's Deichtorhallen (1991 – 2003), he became a master of his craft, "playing" the two gigantic industrial halls at the port with a very small budget and a small team with a series of major international exhibitions.
On the last train from Prague to Bern
50 years ago, a young curator and writer of an art magazine ("Work of Art") made over, jumped completely penniless, but art enthusiastic on the last train from Prague to the West, before the Sovjets closed the Iron Curtain for decades to come. From then on, Felix finally took the side of art – and landed in the eye of another whirlwind, at the concept art guru Szeemann in the Swiss capital Bern. Concept-Kunst, On Kawara (1972), Piero Manzoni (1973), Hans-Peter Feldmann (1977) are logically the first entries in his 200-item list of exhibitions curated by him. From the basis of concept art, he soon took off for unexpected flights and excursions into the international realm of art. When Felix recently presented a "documentation" – chronologically ordered – of all his exhibitions, catalogues and publications, one was amazed. From 1967 to the present day, half a century of Western art on an international level – always keeping an eye on what is opening up across the border, in the old homeland and in the newly forming Eastern European countries.
The young, hopeful artists that he, Zdenek Felix, exhibited, to whom he often offered a platform, an international stage for the first time, are today all world stars, except for those who have been forgotten. These are, as you can read now, damn few.
In 1976, when Felix, after stations in Bern and Basel, moved to Essen to the "Galerie der Gegenwart" of the Folkwang Museum, he arrived just in time to experience the generational upheaval in the West and to move it vigorously. Paul Wember from Krefeld had just retired, Charlie Ruhrberg had only left the Düsseldorf Kunsthalle in 1972, Johannes Cladders still worked in the old museum on Bismarckstraße in Möchengladbach, Peter Ludwig collected what he could, donated his Pop Art collection to the city of Cologne, the Museum Ludwig was founded, Rolf Wedewer opened the Museum Schloss Morsbroich in Leverkusen to the "New Tendencies" with Piero Manzoni, Lucio Fontana, ZERO, Op-Art and Analytical Painting. Feldmann, Katharina Sieverding, Per Kirkeby, Guiseppe Penone, Mario Merz, Jannis Kounellis, Michael Heizer, Videowochen Essen, Gerhard Richter, Anselm Kiefer – all this in the first five years.
Felix remained curious and surprisingly agile even when others were already talking about oversaturation and art fatigue. He remained refreshingly non-ideological, did not seem a bit missionary, even, as one really did not know in the West German art world, charming. He also afforded himself and us a portion of humor. Felix, who was open-minded in all directions, then again absolutely decisive, somehow held his nose in the wind in a different way. He did not tap into theories, did not venture into more complex models of explaining the world, eluded all camps and cliques. Except for one: he remained an advocate of quality, even when it had long since gone out of fashion. An anachronism?
So he remained agile at the highest level, gradually rising from assistant to department head, to Kunstverein director (Munich 1986-1991), to director of the newly founded Deichtorhallen Hamburg, where a large orchestra played with a small team for twelve years. Andy Warhol, Helmut Newton, Andreas Gursky, Keith Haring, Cindy Sherman, but also Louise Bourgeois, Ilya Kabakov, Martin Kippenberger and Andrea Zittel.
His last exhibition for the Arthena Foundation by Monika Schnetkamp at KAi10 (2008 – 2017) was entitled "Metamorphosis". After Düsseldorf, the exhibition with five new discoveries was shown in Berlin and Prague. A programmatic title for provisional conclusion. Felix sees art as a changing quantity. The only constant: "quality". Of which, however, soon no one in the art camp can say what it is, nor what it should be at all. More and more artists are being infiltrated, the range of attention paid to the changing talents is getting shorter and shorter. Those15 minutes of fame (Warhol) already seem lavish. Only success seems to remain as an overarching criterion, countable in dollars and euros. But Felix sticks to it undeterred. What else?
"Relevance," he says when asked what the question doesn't stop with. By no means his personal taste and not zeitgeist are decisive. But what takes a position today, where today a precise restlessness is expressed in art – he absolutely wants to show that. Something special and moving, also disturbing, about the art that offers itself to him and imposes itself.
"Conceptually overloaded"
From his point of view, how does a scout and exhibition organizer like him view the last documenta in Kassel? Most recently, she was the responsibility of a young colleague from Eastern Europe. – "Conceptually overloaded," says Felix, "too little focused on art."
Adam Szymczyk asked many questions of politics, science, post-feminism and the refugee problem, but only a few of art. He also brought "alleged art" from the Third World to Athens and Kassel without presenting the context in which this art was created. He did not interview the artists and therefore showed too few, current works. Since Catherine David's "conceptual" Documenta in 1997, it has been a major shortcoming in Kassel that too little contemporary art from Eastern Europe has been presented here. In Milan, for example, he recently visited the wonderful show of the Czech artist Eva Kotátkova, whose work did not find a place in Kassel. Felix considers Szymczyk's principle of not allowing "commercial" art in Kassel to be tenable. If you exclude all artists who assert themselves in the market, "it becomes absurd". How not all artists who are successful are "relevant".
Which documenta did he like best? – Felix is sure of that: Documenta V by Harald Szeemann in 1972. Maybe Jan Hoet's. That was quite a long time ago.
Felix's search for the star and stars continues. After nine years of development work at Kai 10, he retreats "a little" to Berlin, where he lives with his wife. There wants to write his memoirs. We are curious!
Before that, on April 30, Zdenek Felix will be celebrated by his discoveries, his friends and companions in Berlin. It will be his 80th birthday.