What is colorful, has holes and hangs between tree and church? – Answer: A uko (unknown art object).
What it actually is is difficult to grasp – disc, umbrella, shield, bowl or sieve? Or actually eye, lens or rather cloud. The object is called an "ellipse", which, again very imprecisely, can only mean the outer form. Because the thing, not unlike a giant potato chip, is strangely curved. Could also be a piece of chipped outer armor of the ISS (International Space Station), which sailed down into the middle of the city of Düsseldorf – and artfully got caught at a height of four meters. There it hangs now to be admired.
The amorphous part (about six by eight meters) also has a colorful exterior and a white, rather technoid inside. Does it shine? Or is hot? And why these many holes? It is suspicious that it has justlanded for the Quadriennale 2010 (motto "art present"). Consequently, it will actually only be an art object.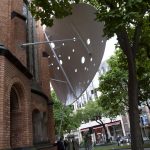 Katharina Grosse (born 1961 in Freiburg), who once studied at the Düsseldorf Art Academy (with Graubner) and ran her studio on Höherweg for a long time, moved to Berlin in the 2000s, moved into a chunky artist's house built according to her ideas (a "studio machine", say thearchitects Frank and Augustin) in order to take over a professorship for painting at the Düsseldorf Art Academy this autumn.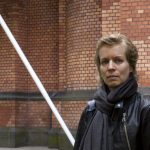 So the uko could be a harbinger. But it is also a reminder. It once stood, casually leaning against the wall, together with three other giant chips, in the exhibition "shadowbox" in the temporary Kunsthalle at Berlin's Schlossfreiheit 1.
At that time – the hall is now gone – managing director Thomas Eller wrote in the catalogue foreword of an "anarchic impulse" that shaped Katharina Grosse's work. Certainly! "Transcending the usual pictorial boundaries and hierarchies, the artist confronts us with visual events that are characterized by an anarchic impulse that ultimately raises the question of the scope of action of each individual." Ultimately? In any case, the unnameable spatial object is Grosse's first object-like work in the outdoor space and makes some demands on passers-by.
For as incomprehensible and strange as the object above the heads may be, as threatening and challenging as it may seem simply because of its dimensions, it is nevertheless of a high attractiveness. The intertwining, neon-garish spray paints on the concave exterior are extremely attractive even in the visually overloaded city location. However, the abstraction of color painting in spray technique, with which Grosse has confidently redefined the concept of painting in numerous locations over the past ten years, is not a non-objective formality, but an expression of a way of life that has consistently abandoned all certainties. This is the challenge for the painter as well as for the random passers-by. Only art object? The unusual, incomprehensible suddenly intervenes in everyday life – and we are amazed. For the time being, we can practice cheerful interaction with Grosse Grosse (Great ones).
C. F. Schröer
Ellipse" is an outdoor project of the Kunsthalle Düsseldorf as part of the Quadriennale 2010 at the Johanniskirche, Martin-Luther-Platz.
Katharina Grosse has created a colour-space staging for the exhibition Rudolf Steiner and contemporary art at the Kunstmuseum Wolfsburg (until 3.10.). See alsoThe Secret Inspirer? Jan Albers and Manuel Graf about their Steiner
For the exhibition "KOSMOS RUDOLF STEINER" at the Kunstmuseum Stuttgart she is preparing a new spray work (5.02. to 22.05.2011).
all photographs: © 2010 Burkhard Maus (and special thanks)