eiskellerberg/film production , Germany 2022. A film by Yael Kempf and Carl Friedrich Schröer, edited by Anke Strauch
"Something always works," Kasper König gives us hope. Anything. If that wasn't already a lot. Kasper König (born as Rudolf Hans König on November 21, 1943 in Mettingen, Westphalia) is known for his penchant for loose jokes and subtle postcards.
The saying can be found on the back of a postcard from the shop of the Westfälisches Landesmuseum. The obverse shows Adam and Eve eating from the tree of knowledge, bringing sin into the world. Johann Brabender created the sculptural group around 1545 for the entrance portal of Münster Cathedral. "Falls from Man" is one of Koenig's favorite arousals and source material for many exhibitions. Even in the darkest cases, he does not want to give up hope. Because on this side as well as on the other side of paradise: "Something always works."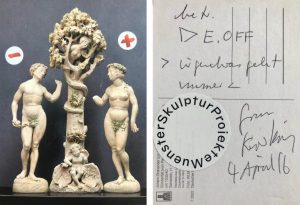 Not a simple basic disposition, one may assume. Kasper König gives eloquent information on how an exciting life could still succeed (as the name he gave himself suggests). He has 55 years "inside and outside in the art business" under his belt. A biography that doesn't want to be one is in the works.
"WHAT BEAUTY IST, I KNOW NOT" was the name of his last exhibition in St. Agnes, the headquarters of his son Johann König's gallery in Berlin. Géricault's monumental painting The Raft of the Medusa and Dürer's Peasant Sin served as templates for dealing with a fundamental conflict of artistic creativity: facing the world, or turning away? Innocent in paradise but ignorant, or sinful but knowing? Solidaire or solitaire (Albert Camus)?

Perhaps the most famous postcard writer in art history recently summarized his life in 15 exhibitions "BEST ART" . There were many more. Enough. "I'm too old". king resigns.
As in 1977, 1987, 1997, 2007 and 2017, the 2027 sculpture projects in Münster will take place parallel to the documenta and the Venice Biennale. After 40 years, Kasper König finds his way out as artistic director. A new "head" is needed for the sixth edition. Immediately after the documenta, a selection committee is to present the head, male or female. As it is beautifully squashed from Münster: "With a significantly increased inclusion of artistic perspectives beyond Central Europe and America". Of course König already has his successor in mind, of course he won't reveal anything. "I don't want to shoot anyone."
In any case, postcards remain a light in the tunnel of hopelessness.
eiskellerberg.tv met Kasper König for an interview in his new home in Berlin.
Note: The Museum Angewandte Kunst in Frankfurt aM is showing 

 


successful artist

 books from May 7th to August 28th, 2022 . 




The publisher of the bookstore Walther König


---
more comments