by Micaella Cervinscaia
What is noticeable when you enter the long so-called "Room of Silence" or Japan Room of the Langen Foundation? The absolute inner peace, or rather the danger of forgetting the world outside? Is it a danger, or rather a desire, to escape from everyday life and get an insight into another world?
The escape route leads into a world of the artist Jan Albers (born 1971), into an exhibition that bears the at first glance unusual nameparcOurs mOrtale. It is the artist's artworks such asupanddownfromdusktilldawnorfOlkstOthepeOpleOfsyria that stopped my gaze. It is the braided paper, the wooden blocks of different lengths, buttons and spray paint that, in harmony, form a whole that dominates the play of nuances and details and, in harmony with the space, demands the imagination of the visitor.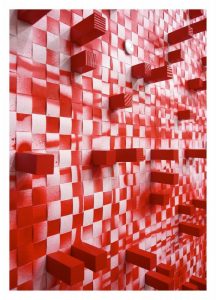 Also noteworthy is the architecture of the Langen Foundation, with his design the Japanese architect Tadao Ando leads the connection from the outside to the inside. The open structure of the walls, many stained glass windows and high ceilings give the feeling of freedom, which is concretized by the exhibition and makes you think.
Freedom, peace, the threatened worlds and political conflicts are motifs by Jan Albers, which are also visible in the small buttons when you want to see them.
Jan Albers cuts, bends and changes the materials that become something that captivates our gaze in the process. Something that everyone can make something specific. He presents us with a challenge, with the names of his works of art, which we should first learn to read, as well as with the emphasis on certain letters that keep the words apart and at the same time confuse. Jan Albers offers a space for illusion and imagination that you can discover for yourself. The Langen Foundation presents this space in a series of monographic exhibitions by contemporary artists.
The Langen Foundation exists since 2004 in the cultural area of Hombroich near Düsseldorf and is a wonderful island that invites those interested to look at the collections of Viktor and Marianne Langen and enjoy the landscape. For me it was something special to be able to participate in this course and I hope that this room remains unclosed to others.
Photos: Micaella Cervinscaia
redrooster, JanAlbers_feedme2011 – Jan Albers