Christoph B. Klöcker re-recorded the ballad: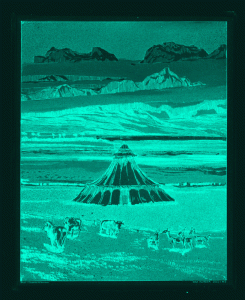 Max Klinger (* Feb. 18, 1857 in Leipzig; † July 4, 1920 in Großjena) created the tent shortly before his death.
He was inspired by the ballad of the wild world from 1912 by his friend Richard Dehmel (* Nov. 18, 1863 in Hermsdorf; † Feb. 8, 1920 in Blakenese).
Yaël Kempf created a montage for eiskellerberg . She in turn refers to Klinger and Dehmel. Christoph B. Klöcker re-dubbed the ballad.
Max Klinger worked for more than five years on his last set of graphics, which were published under the title "Tent" just three years before his death. Inspired by the "Ballad von der Wilden Welt" by his friend Richard Dehmel, it shows the love and life of a woman in a fairytale-like, fantastic world. Max Klinger himself spoke of his obsession with the subject:   "I lose my illusions at the tiniest bit of a word, and I just want to tell a fairy tale, and a real one at that, where heads are just as shaky as shirts, sometimes up, sometimes down. Singing, a little murder, proper loving and letting go and all that in a beautiful area, with all sorts of weather and not vegetarian at all, but meat, lots of meat."
"Tent" (Opus XIV, 1915-17) is considered the culmination of Klinger's work and represents the sum of his storytelling skills and fantastic pictorial inventions. The artist was considered by his contemporaries to be the "German Michelangelo".
with thanks for the image rights
Museum of Fine Arts in Leipzig
dr Jeannette Stoschek
Sabine Schmitt
special thanks to
dr Agnieszka Lulinska, Bundeskunsthalle Bonn
Joachim Burmeister, Bregenz
Katja Tönnissen, Düsseldorf
---